TOP-RATED MOVING COMPANY IN SEATTLE, WA​
Moving company Seattle, WA New Horizons Moving Company is a top-rated relocation service. We are focused on providing high quality moving services at competitive rates. Contact us for more information!
Seattle Washington's Most Loved Moving Team!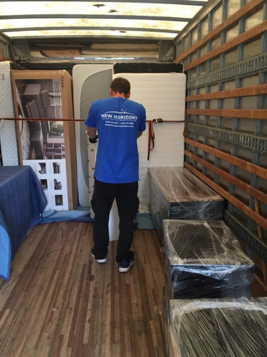 If you're looking for a top-rated moving company located in Seattle, Washington look no further. New Horizons Moving Company is the company you want to deal with for movers.
We have our main location in Burien, WA but we work with moving customers near and far across Seattle! Our relocating services are special, you see. Unlike other moving companies, our team doesn't charge extra for many of the services most of our customers need.
We don't charge extra for the following complimentary services:
climbing up and navigating stairs
disassembly of furniture
re-assembly of furniture
heavy lifting
Seattle's New Horizons Moving Company offers many different types of moving services which we've outlined above.  From residential relocation to apartment moving services, and office moves, you can call us for any and all of your relocation needs.
Finding A Top-Notch Mover For Your Relocation
You need a top notch mover for your relocation.  And guess what?  New Horizons Moving Company is that company!
We combine high quality services with excellent customer service to make your move as stress-free an experience as possible.
Seattle WA's New Horizons Moving Company is well aware that moving isn't always the most pleasant experience.  That' why we try to make it as painless as possible.  We offer the following benefits when you work with us:
Free quote
Easy scheduling
Transparent pricing
No hidden fees
Excellent customer service
With qualities like this, it's no wonder you want to work with us!  We're Seattle Washington's top-rated moving team!
Easy Quote Process For Your Move
Seattle's movers, New Horizons Moving Company, offers an easy quote process for your move.  We can either come to your home or business and assess the items that need to be moved and transported, or you can call us and we can give you a fair estimate on services.
Whatever you choose, rest assured that we are top-rated Seattle movers and can't wait to get started planning your relocation. If you need more help, we made it easy to learn about our process with some moving day tips.

Julia Galleher
"Josh and his crew did a great job with my move. I have had other movers in the past and they did good but the service as well as the price Horizon gave me was the best overall. I will definitely refer them to my friends, clients and anyone I know. Thank you again Josh, Jesse and the crew!"

Willie B.
I've never had much luck with moving companies but recently called on the guys at New Horizons and they did an AMAZING job! When my new home wasn't quite ready, these guys stepped up and kept our belongings on their truck overnight without complaint! They helped me finish packing my house, brought extra boxes/blankets to protect fragile items! Thanks for a job well done! I HIGHLY recommend them!!!!!

Naomi Carleton
I used New Horizons recently to move a household worth of stuff into temporary digs. Not only was Josh easy to contact and extremely helpful, he and his crew arrived on time and did a fantastic job. I hate moving and New Horizon made it SO MUCH EASIER. I had no hesitation about using them again for my next move, and have already recommended their services to friends. No hidden fees, were careful with my furniture and they took apart several pieces and put them back together for me. I can't recommend their services enough.

Amanda Sherwood
Josh and his team have moved my office multiple times. They go above and beyond allowing for very little downtime for our small business. I highly recommend them!
We are here to answer any questions, or we can come stop by and see you!
Hire Seattle Movers New Horizons Moving Company!
The bottom line is this.  Just reach out and hire Seattle movers, New Horizons Moving Company for your relocation.  Our company is simply amazing and we really want to help you through your transition.
New Horizons Moving Company is a Seattle, Washington moving company that is committed to easing the stress and craziness often associated with relocation.  In fact, we're here to make your move stress-free and easy?   Can you believe it?
Contact us today and find out why we are Seattle's best movers!  Set up your free phone or in-person quote on services.  We're sure you'll be happy you chose us!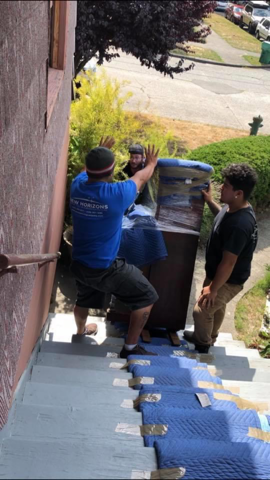 Seattle Moving Company FAQs:
We provide complete moving and packing services. Whether its just a few items or a whole house we will
gladly get the job done! Our in house workers are experienced and careful. We're a local company that's
familiar with most neighborhoods in the Puget Sound region.